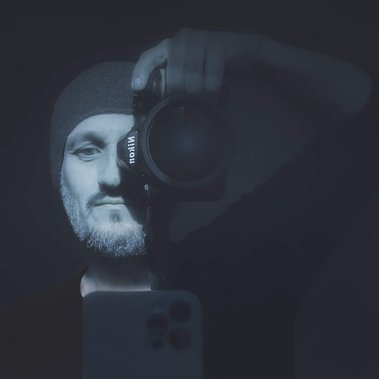 1976 Born, Rome, Italy
2006 – 2020, London, United Kingdom
2020 – 2021, Highlands of Scotland, United Kingdom
2021 – present Dolomites (Italy), Norway, Scotland

Lorenzo is a Photographer and Architect born in Rome, Italy in 1976 from a half-French and half-Belgian mother and a father originally from Venice. He carried out studies abroad in Delft and in Bath and he graduated in Architectural Engineering in Rome.
His desire to travel solo and explore the Planet started very early thanks to his open-minded parents, who let him wander alone from his early teenage years. He loves any form of travel which puts him in contact with Nature and local cultures: kayaks, tents, campervans, overland vehicles, sailing, fishermen boats and any other form of local transport.
After he moved to London in 2006, he started to work for internationally renowned architectural practices including those of Jean Nouvel and Norman Foster initially cultivating his deep passion for Nature and Photography during his travels. Lorenzo's work is chiefly inspired by his love for Nature, which has led him to visit untamed natural environments including Chile & Patagonia, Namibia, Japan, Greenland, Lapland and Iceland amongst others.
He lived in the Scottish Highlands since the end of 2020. Initially, he moved to the Highlands in a campervan, living and working remotely during the lockdown: this allowed him to be in deeper contact with the wilderness. He has plans to build his own overland vehicle for exploring remote locations in the Euro-Asiatic Continent, Africa and North America. Recently he has developed a great fascination for the polar world. Currently roaming between the Dolomites, the |Netherlands and northern Norway to pursue new photographic projects.
Since his youth, he has combined a passion for oriental cultures and religions: his regular practice of yoga has taken him to India on several occasions. His architectural formation and passion for yoga both influence the roots of his photography. The concept of "Space" in all its different interpretations, geometrical composition and the spiritual essence of natural phenomena are seen throughout his photographic work.
A sort of atmospheric minimalism permeates his artistic production: a somewhat dark emotional state that exudes from the work, imbuing his series of images with a surreal and supernatural sensibility. While his exploration of his personal style continues, a strong individual aesthetic starts to emerge from his initial body of work. Today, Lorenzo's main focus is to create Nature photography which inspires and promotes Environmental and Planet Earth awareness.
2022
2022
2022

2022
2021
2021
2021
2021
Selected Awards
🔗 IPA - INTERNATIONAL PHOTOGRAPHY AWARDS
1x 2nd Prize
1X Special Selection
🔗 PX3 - PRIX DE LA PHOTOGRAPHIE, PARIS
3X Silver
1X Bronze
1X Honourable Mention
🔗 SWPA - SONY WORLD PHOTO AWARDS - Landscape Professional Winner
🔗 LIFESTECH - BETM - 2nd Prize
🔗 BIFA - BUDAPEST INTERNATIONAL PHOTOGRAPHY AWARDS
Gold 1st Prize
2X Bronze 3rd Prize
2X Honourable Mention
🔗 IPA - INTERNATIONAL PHOTOGRAPHY AWARDS
Winner 1st Prize
2X 3rd Prize
7X Honourable Mention
🔗 LIFE FRAMER MAGAZINE
Winner 1st Prize - World Traveller Series selected by Jonas Bendiksen
Winner - Colour Series
🔗 SWPA - SONY WORLD PHOTO AWARDS - Landscape Open shortlisted
2022.10.21
2022.06.22
2022.06.01
2022.05.01
2022.04.22
2022.03.30
2021.03.15
Stay in Touch for News and Events Sign up with your email address for your Newsletter